Business owners/managers... I have 1 advertising slot available on the website. Don't miss this opportunity to reach 1000's of potential customers daily! More info here Click Here.

Astronomy Information
Sun



Sunrise: 6:19 am
Sunset: 7:23 pm
Daylight: 13:04

Moon



Moonrise:9:40 pm
Moonset: 8:12 am
92% illuminated
| | | | |
| --- | --- | --- | --- |
| First Quarter Moon | Full Moon | Last Quarter Moon | New Moon |
| | | | |
| 10:22 UTC 1 April 2020 | 02:36 UTC 8 April 2020 | 22:57 UTC 14 April 2020 | 02:26 UTC 23 April 2020 |
Space Weather Observations, Alerts, and Forecast
3-day Solar-Geophysical Forecast

forecast is not available

Real Time Images of the Sun

The sun is constantly monitored for sun spots and coronal mass ejections. EIT (Extreme ultraviolet Imaging Telescope) images the solar atmosphere at several wavelengths, and therefore, shows solar material at different temperatures. In the images taken at 304 Angstrom the bright material is at 60,000 to 80,000 degrees Kelvin. In those taken at 171 Angstrom, at 1 million degrees. 195 Angstrom images correspond to about 1.5 million Kelvin, 284 Angstrom to 2 million degrees. The hotter the temperature, the higher you look in the solar atmosphere.
Real Time Solar X-ray and Solar Wind
LASCO Coronagraph

WSA-Enlil has become an important tool for forecasting the impact of Coronal Mass Ejections and the effects of the Solar Wind on the Earth.
Real-Time Solar Wind

Real-Time Solar Wind data broadcast from NASA's ACE satellite.
Solar X-ray Image

Observations of solar X-rays aids in the early detection of solar flares.
Active Region

Active Region (AR) using the 'BE12a' wavelength filter and a 1 second integration time setting over a period of 24 hours.
Auroral Activity Extrapolated from NOAA Ovation Prime Model

The Auroral Forecast product is based on the OVATION Prime model which provides a 30-40 minute forecast on the location and probability of auroral displays for both the northern and southern polar regions. This model provides estimates of where the aurora might be visible. The model itself provides output in terms of energy per unit area. However, for these displays, the data have been converted into a relative intensity map. This has been further translated into a probability of observation. Thus, the images show both where the aurora is most likely to be observed as well as how bright it might be.
Credits:
Space Weather Images and Information (excluded from copyright) courtesy of: NOAA / NWS Space Weather Prediction Center, Mauna Loa Solar Observatory (HAO/NCAR), and SOHO (ESA & NASA).

Space Weather links:
3-Day Forecast of Solar and Geophysical Activity
Space Weather Now
Today's Space Weather
Real-Time Solar Wind
Space Weather Outlooks
Space Weather Bulletins
Space Weather Alerts and Warnings
Space Weather Alerts - Current Month
Solar and Heliospheric Observatory (SOHO)
The Very Latest SOHO Images

Star Chart for the Illiana Area
Astronomy Fact
Scientists believe that we can only see about 5% of the matter in the Universe. The rest is made up of invisible matter (called Dark Matter) and a mysterious form of energy known as Dark Energy.


Phenomenal FREE Planetarium software with Satellite Tracking
Stellarium
---

Forecasts courtesy of:
ClearSky
and
7timer
| | | | | | | | | | | | | | |
| --- | --- | --- | --- | --- | --- | --- | --- | --- | --- | --- | --- | --- | --- |
| Worse | | | | | | Better | | | | | | Best | Sky (including Wind) |
| Worse | | | | | | Best | | | | | | Worse | Ground |
---
Stellar Neighbors
Click on any star for more details.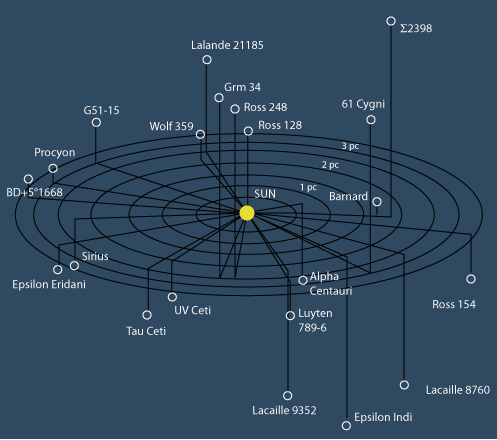 Hyperphysics
---
Space Track-Satellite Passes
International Space Station View Look Angles

Satellite Ground Trace courtesy:
Heavens-Above.com
Bright Satellite List for your location.
Notes about viewing ESVs:
When using lookangles, choose passes with high magnitudes; less than 6.0. ("Looks" are local time.)
Best viewing is when ESV is in Earth's penumbra; on the map, it's the solid line during night.
Dotted line on map denotes ESV is dark, in Earth's umbra (shadow).
Objects in orbit have to maintain a speed of at least 17,500mph, therefore ESVs traverse the sky noticeably different than aircraft.
ESVs appearing to blink are either tumbling rocket bodies, or spinning payloads with deployed solar arrays.
High-Eccentricity objects have a more ellongated orbit. Ground trace looks like a backwards C.
Regression-Ground traces will move West with each orbit due to Earth's rotation.


Script courtesy of: Lee from MadALwx. Page template and Facts script courtesy of: TNET Weather.
Page Template and Moon script courtesy of: Saratoga Weather.